Out with the shower curtain, in with the glass door!
We recently had a bathroom in my house a little updated. We had a new ceiling shower fan/light put in and then decided to take down the shower rod and curtain and have a glass door installed. Here at Hubbard's Maid service, we get a lot of calls from people wanting to get the water deposits off of their shower doors. So today I share my tips on how I keep my shower door clean and clear.
An ounce of prevention is better than a pound of cure.
The best thing you can do to keep your shower doors looking beautiful is keeping a squeegee in the shower. You can find them anywhere, I got mine from Walmart. All you need to do is swipe away water and residue from the door and then wipe it down with a dry microfiber cloth every time you finish your shower. I know it seems like that would be a little bit of a hassle, but it will keep your glass shower doors looking phenomenal. And then you don't have to pay to have people come in and scrub them, and the results are not guaranteed anyways.
Some types of vinegar have a second talent: cleaning!
Fill a clean spray bottle with equal parts of water and white distilled vinegar. Spray the solution onto the front and back of the shower doors. Allow the mixture to stand for at least five minutes or up to 30 minutes for tough soap scum. Vinegar will cut through the most stubborn dirt and grime and prevent future buildup. Next, fill a small cleaning bucket with fresh water, put on a pair of rubber gloves and use a sponge dipped in the water to wipe down the shower doors, and remove the vinegar. Don't forget to wipe any areas where the doors overlap. For a rinse free option, use 1 part vinegar with 1.5 parts water and 5 drops essential oils, optional  (peppermint, tea tree, lemon, or lavender are all nice). Shake before each use, spray shower walls and doors and then walk away and let the surfaces air dry.
Vinegar can remove most mineral deposits, but the best thing is the power of the squeegee to keep your shower doors looking fantastic.
Here at Hubbard's Maid Service we offer full bathroom cleaning services. If you're looking for some reliable and responsible cleaners in Savannah, Georgia, the Savannah metropolitan area, or Chatham, Effingham, or Bryan Counties, please 

contact us
 today for a free estimate and a discussion of your particular cleaning needs.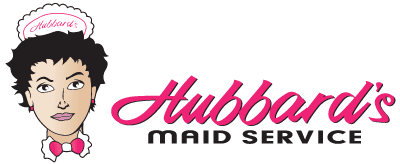 More tips from Nicole here.
Learn how to Clean Your Fridge Like a Professional here.
Learn tips to Get the Most out of Your Maid Service here.